Wastewater generated by Tulbagh Winery (Porterville, Cape Town, South Africa) was discharged into a series of dams/ponds. The first pond  had a volume of 132,000 gallons with a varying depth of 3.0-13 ft and contained the highest organic load with a chemical oxygen demand of >3000mg/L and was the main subject of treatment. The water also had high turbidity, Total Suspended Solids (TSS), and bad odor affecting the local neighborhood. An independent analysis carried out on the discharged water showed high COD content of ≈ 3000mg/L.
After installing a Nanobubbler, chemical analysis showed a significant decrease in the COD measured and level of scum formation or generation on weekly basis. A nearly 30% reduction in the COD measurement was recorded at the end of week 3. This continued progressively with an apparent reduction of scum formation and steady reduction in detected odors and turbidity of within the water column through weeks 6 to 8 when ≈50% reduction of measured COD were recorded and birdlife reappeared on in the pond. Steady progress in COD reduction continued and the pond regained a tranquil appearance with birdlife and lack of any odor and clear water. COD valued at week 11 was 322mg/L which was below the statuary required limits (400mg/L) of disposal and or reuse of the pond water for irrigation purposes and achievement of the cleaning process.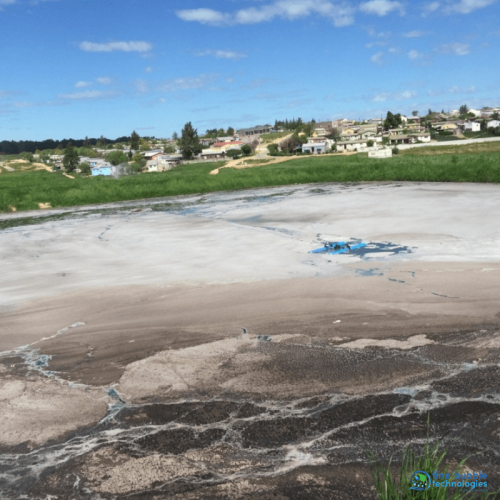 Tulbagh Winery Pond – Implementation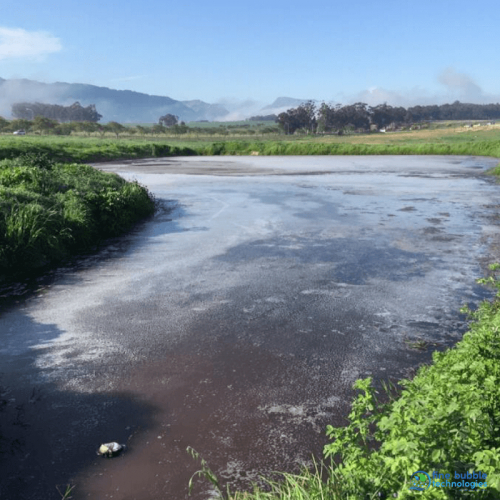 Tulbagh Winery Pond – Day 1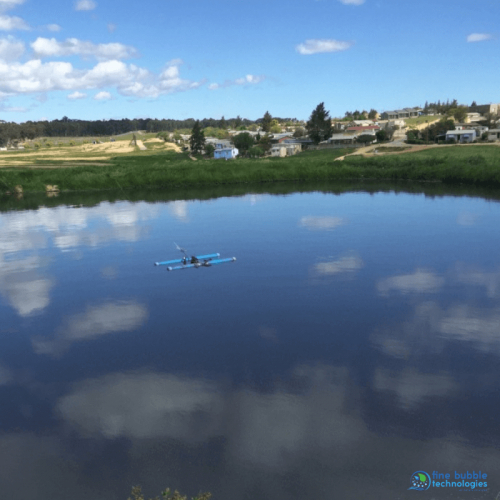 Tulbagh Winery Pond – Result
Tulbaugh found that the Nanobubbler:
Effectively kills bacteria, algae, and viruses.
Removes bad smells.
Decomposes sludge.
Stimulates self-purification to recover a clean water environment.
Eliminates floating blue-green algae; reduces excess nutrients.
Kills anaerobic microbes and parasites.
Helps the growth of aerobic microbes.
Improves water quality and promotes faster, healthier, and stronger growth of plants and fish.